Oak Grove Theatre Arts presents:
Peter Pan Jr.
April 21 - Dinner Theatre
April 22 - 2:00 & 7:00
April 23 - 2:00
April 27 - 7:00 - Student Night $5 tickets sold at lunch on April 26 & 27
April 28 - 7:00
April 29 - 2:00 & 7:00

Ticket Prices the same - $7 & $12
Dinner Theatre Tickets - $50 (fundraiser)
Scheels Center for the Performing Arts on the north campus of Oak Grove Lutheran School.

Learning Has Never Been So Fun!
IGNITING IMAGINATION • Jungle Book KIDS • K-5th grade!
Brusven Theatrical and Oak Grove Theatre Arts are excited to announce our Jungle Book Kids Summer Theatre Program. Starting June 12 we will spend 4 weeks – 5 days a week in this fun educational and performance program. Igniting Imagination is an immersive education program which explores the fundamentals of theatre: acting, singing, dance, costume design, and set construction for half the day and create the musical production of Jungle Book Kids the other half of the day. This program will be produced by our EMERGING ARTISTS in conjunction with a professional artistic team led by Director Scott M Brusven.
This program is an open enrollment program. Any K-5th grade student (grade completed) registered will participate in this program without being 'cut' by an audition.
Program runs June 12 – July 9, Monday – Thursday 9-4pm and Fridays from 9-noon on the Oak Grove Campus in the Scheel's Center for the Performing Arts. Performances will be held July 6, 7, 8, & 9
Program cost $350
Early Bird $300 – if registered before January 15th
CLICK HERE to register your k-5th grade students via eventbrite
Program is for students who have completed grades k-5 (not going into grades k-5). The first 75 students registered will be in this production. This is an open enrollment, community wide program. All 75 students who register will be cast in the production. We will hold auditions for all those registered to place them in their role, but all who register will be cast in the production.
*plus online transaction fee
Aladdin Kids perform after their four week education and performance program.
Photos by Michelle Warren Photography & Northern Stories

Aladdin KIDS students build the set and then 'play'
on it during last summer's Igniting Imagination summer program.
One Act Play

A cast of 25 actors and four technicians competed in Regional One Act Play with the Chronicles of Narnia. They had a strong showing and finished third (one spot away from going to State).
Lauren Hoffman - Honorable Mention Acting Award Winner for the role of White Witch
Spencer Green - Superior Acting Award Winner for the role of Peter
Congratulations to the the cast and crew!
As you can see, we are building a huge season for 2015-2016 here at Oak Grove. After seeing your students perform, and listening to them talk about their passion for theatre and the Oak Grove community, I know we will be ready to bring the largest casts to the stage for our season. To do that I need your help. If you are a student I need you to join the Oak Grove Theatre Arts Student text message system. You will get all the information about auditions, rehearsals, and classes via text message reminders you can do that by following these instructions.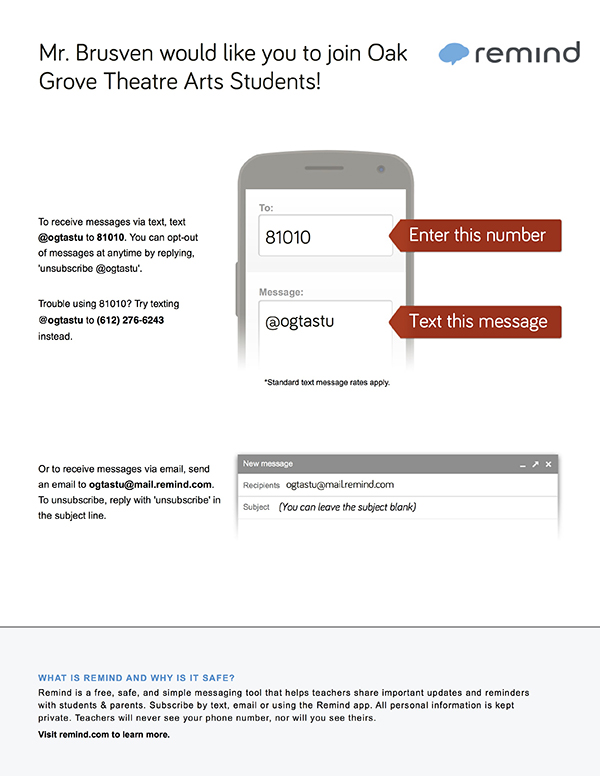 PARENTS - I would also like to communicate with you on auditions, rehearsals, work calls, donation campaigns and theatre support. Sign Up to the Oak Grove Theatre Arts Parent text club by following these instructions. 
Theatre Arts
Oak Grove Lutheran School incorporates the theatre arts at all program levels.

The Theatre Arts program is directed by Mr. Scott M Brusven.
scott.brusven@oakgrovelutheran.com


Scott M Brusven is life-long creative.  For nearly the last decade, Scott worked for the Fargo-Moorhead Community Theatre and The Stage at Island Park, in touring theatre, education, marketing, and also served as Artistic Director from 2009-2014. He has directed, choreographed, designed, produced or acted in nearly 60 theatre projects since 2005. During his time at FMCT and The Stage he created K-8 summer education programs which engaged nearly 200 students in the arts each summer.

Through his work he also developed partnerships with five local theatre companies to produce their work as a part of The Stage's season. In his spare time, Brusven works as the Executive Assistant to the Region Chair for the Kennedy Center American College Theatre Festival (KCACTF) in Region 5. For the last nine years, he helps coordinate and run logistics & hospitality for nearly 1500 (annual) participants from all across the upper Midwest, and also three times has coordinated the National KCACTF in Washington DC.  Brusven also spent five summers as the Artistic Director of Summer Musicals for A Center for the Arts in Fergus Falls. Scott hold his degree in Theatre Arts from Concordia College in Moorhead MN and he currently serves as the Marketing and Events Director for Eco Chic Boutique.