Legally Blonde: The Musical will be performed by our 7th-12th grade students in February 2019. Thank you to our Premier Sponsor, Dr. Brook Townley and Origin Chiropractic!
A fabulously fun award-winning musical based on the adored movie follows the transformation of Elle Woods as she tackles stereotypes and scandal in pursuit of her dreams. Action-packed and exploding with memorable songs and dynamic dances - this musical is so much fun, it should be illegal!
Elle Woods appears to have it all. Her life is turned upside down when her boyfriend Warner dumps her so he can attend Harvard Law. Determined to get him back, Elle ingeniously charms her way into the prestigious law school. While there, she struggles with peers, professors and her ex. With the support of some new friends, though, Elle quickly realizes her potential and sets out to prove herself to the world.
We are building a huge season here at Oak Grove. After seeing your students perform, and listening to them talk about their passion for theatre and the Oak Grove community, I know we will be ready to bring the largest casts to the stage for our season. To do that I need your help. If you are a student I need you to join the Oak Grove Theatre Arts Student text message system. You will get all the information about auditions, rehearsals, and classes via text message reminders you can do that by following these instructions.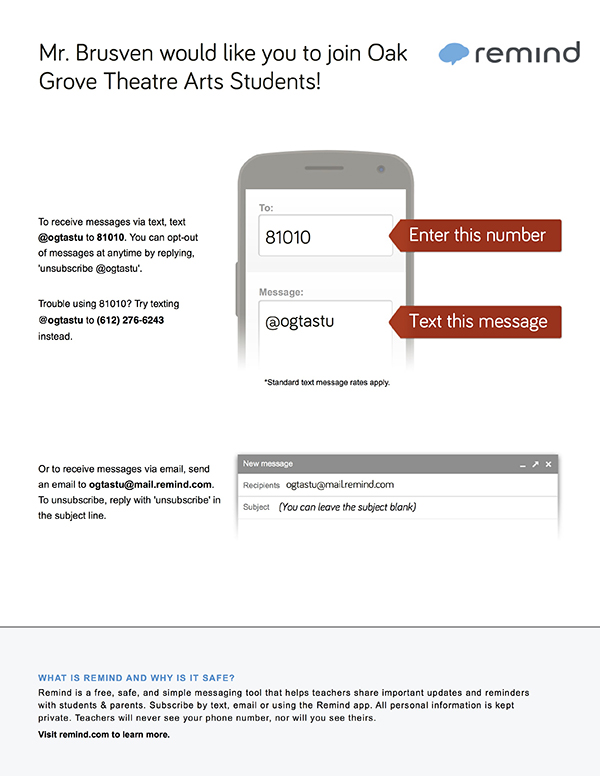 PARENTS - I would also like to communicate with you on auditions, rehearsals, work calls, donation campaigns and theatre support. Sign Up to the Oak Grove Theatre Arts Parent text club by following these instructions. 
Theatre Arts
Oak Grove Lutheran School incorporates the theatre arts at all program levels.

The Theatre Arts program is directed by Mr. Scott M Brusven.
scott.brusven@oakgrovelutheran.com


Scott M Brusven is life-long creative.  For nearly the last decade, Scott worked for the Fargo-Moorhead Community Theatre and The Stage at Island Park, in touring theatre, education, marketing, and also served as Artistic Director from 2009-2014. He has directed, choreographed, designed, produced or acted in nearly 60 theatre projects since 2005. During his time at FMCT and The Stage he created K-8 summer education programs which engaged nearly 200 students in the arts each summer.

Through his work he also developed partnerships with five local theatre companies to produce their work as a part of The Stage's season. In his spare time, Brusven works as the Executive Assistant to the Region Chair for the Kennedy Center American College Theatre Festival (KCACTF) in Region 5. For the last nine years, he helps coordinate and run logistics & hospitality for nearly 1500 (annual) participants from all across the upper Midwest, and also three times has coordinated the National KCACTF in Washington DC.  Brusven also spent five summers as the Artistic Director of Summer Musicals for A Center for the Arts in Fergus Falls. Scott hold his degree in Theatre Arts from Concordia College in Moorhead MN.